GRAND PRIX was founded by Guy Albert Cattin at the end of the 20th century.
Mr. Cattin comes from a long line of famous Swiss watchmakers and is the sixth generation of his family to work in the watchmaking industry. The family business has always been headquartered in Switzerland, initially in Neuchâtel and then moving to the SWISS JURA in 2014, where the Cattin family have continued their over 150-year-old watchmaking tradition and GRAND PRIX has inherited their legacy.

GRAND PRIX, an international brand whose creation was inspired by the rapid development of the world economy, aims to be a global provider of charming watches that offer the perfect combination of fine Swiss craftsmanship and pioneer spirit. Fusing this advanced technological legacy with Cattin's spiritual concept gives the GRAND PRIX brand a new meaning and significance – enabling GRAND PRIX to take tradition to a whole new level.

The year 2000 saw GRAND PRIX launch in mainland China with the aim of developing the market in East and South-East Asia.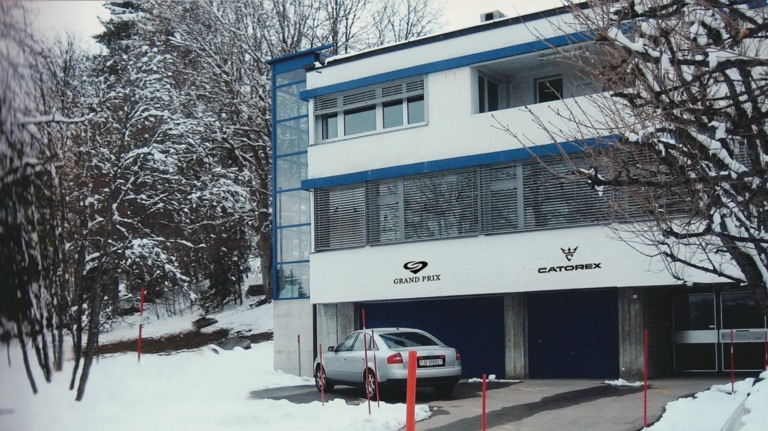 THE BRAND LOGO AND ITS MEANING
TIME REBORN: DAY AND NIGHT ENTWINED
The fusion of night and day is a work of art as well as a feat of time: The Grand Prix logo features two curves representing day and night, which mirror and complement each other like the passing of time
THE HEART-SHAPED SYMBOL
The stylised curves that make up the GRAND PRIX logo do so in the shape of a heart, which is filled with passion and ready to open to the world.
DIAMOND-QUALITY PRODUCTS HANDED DOWN FROM GENERATION TO GENERATION
With its timeless style and enduring legacy, the GRAND PRIX logo also recalls the shape of a diamond, which symbolises GRAND PRIX's commitment to making watches that have the same superior quality as an everlasting diamond.