The Sixth-generation successor of the CATTIN family · The founder of GRAND PRIX · The GRAND PRIX CEO:Mr. Guy Albert Cattin
The world economy began to grow dramatically in the late 20thcentury, I created GRAND PRIX with the aim of seizing new opportunities during this period of global prosperity.

I am deeply honoured to have founded GRAND PRIX and I am proud of my initiative. My family's legacy has instilled me with confidence. My forefathers chose such a wonderful industry and their ability to continuously develop new skills – working diligently from generation to generation, succeeding in teaching me the skilled craft of making the perfect watch – encouraged me to found GRAND PRIX with the world's most advanced technology and the very highest level of Swiss quality.

That said, GRAND PRIX still has a long way to go. We endeavour to achieve even more ambitious goals by developing innovate solutions – by which I mean our excellent range of GRAND PRIX watches – that meet the needs of the global market.

I would like to thank our loyal customers and business partners throughout the world for their support and confidence in GRAND PRIX.

I would also like to thank all our staff for their dedication and hard work – we would never have achieved such tremendous success without you. GRAND PRIX is not only our home but also our dream.

Thank you !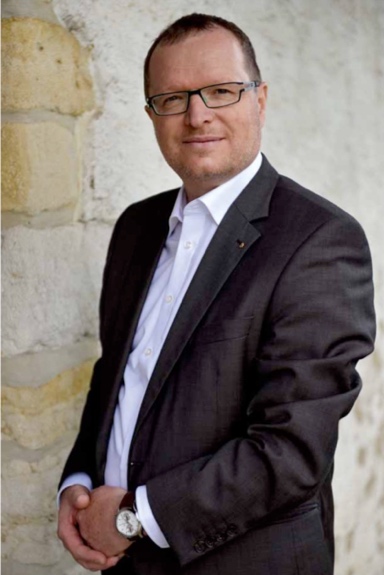 Guy A. Cattin, the founder of GRAND PRIX, is the sixth-generation successor of the Cattin family and holds a Joint Honours Master's degree in Economics and Business Studies.
Mr. Cattin is a renowned watchmaker in Switzerland and has been a leading figure in the modern Swiss watch industry for many years. He has inherited a wealth of watchmaking experience and advanced manufacturing techniques.
Determined to continue his family tradition, Mr. Cattin is committed to using his unique vision and valuable insight to not only advance technology but also lead the world-renowned GRAND PRIX. His expertise and outstanding leadership skills are moving the company into an even more glorious era.
This is enabling more and more people to experience the highly personal yet professional culture of GRAND PRIX, which is an important asset to the watchmaking world.